The reporter learned from interviews with several children's furniture living museums in Zhengzhou City that the parents who came to buy children's furniture were unfamiliar with the new standards, and most of the clerk were confused. Parents admit that they pay great attention to the safety of children's furniture, but they have no research, and most believe in brand goods. In a children's furniture store in the western district of Zhengzhou, Ms. Wang is choosing a children's bed for her daughter. Besides the style, she said she would smell a pungent smell and see if there are any corners. When the reporter asked her how to identify the furniture material, she said that she did not understand, can only believe in brand goods. "Is there a new standard? What are the specific regulations?" When the reporter asked if he knew the new national standard for children's furniture, Ms. Wang said she did not know, and hoped that the media could publicize more and supervise the implementation of new standards by manufacturers. .
In the interview, the reporter found that many children's furniture manufacturers expressed their support for the introduction of the new national standard. The doors of several shops (decorated faces and floors are covered with the slogan "The National Standard for Children's Furniture", but many stores still have the same slogan. There are old products placed. Moreover, when the reporter asked how to deal with these "old furniture", a shopping guide said: "If there is a customer's need, we will write on the shopping contract provided by the store that this is the old standard product." The maintenance and upgrade of the products, the manufacturers are not active. The clerk of a furniture brand said that the old customers will be returned in the near future, and then the products that appear relative to the new national standard will be improved, but the related expenses will be borne by the customers themselves, although most manufacturers promise to follow The warranty guarantees the old products, but as the new products produced in accordance with the new national standard become mainstream, those old products are like "abandoned children", and it is unlikely that manufacturers will provide free maintenance services according to the new standards.
More worrying than the business slogan is that the reporter found in a number of building materials city that some children's furniture brands have no knowledge of the new national standard. In a children's furniture store, the reporter saw that the products placed on the spot still have angular edges and do not meet the requirements of the new national standard. "Products should not be dangerous. Sharp edges and dangerous sharp tips. The edges and edges should be rounded or Chamfering treatment and other regulations. When the reporter asked the owner why he did not sell the product in accordance with the new national standard, the merchant looked blank and "had not heard of the new national standard. The manufacturer did not inform us." In another furniture brand store, several children's furniture were mixed in adult furniture. The owner said that he had never heard of the new national standard for children's furniture. A similar situation also occurs in multiple brand stores.
Aquarium Supplies
Having an aquarium is a good way to decorate your house or office. Many people start by having small tanks with a few fish and then upgrade to bigger tanks with more variety.
There are two types of aquarium tanks, either fresh water or salt water, depending on the type of fish you keep. (freshwater or saltwater) There are also different set-ups, chemicals and accessories for each type of tank.
As an Aquarium goods supplier, we supply thousands of essential Aquarium needs. A huge range of aquaria, accessories, food and all necessary equipment to keep your tank clean and healthy.
We supply a big range of tanks – from small through to extra-large. We also supply cabinets to suit all sizes.
We also supply glass reptile tanks and mesh wire cages for reptiles. For small aquariums we supply plastic tanks – with or without handles – ideal for desktops, counter tops etc.
Our large range of air pumps comes in a variety of sizes and modes – a big range of filters from small through to large. We carry a good range of heaters, lighting and skimmers, for fresh or salt water.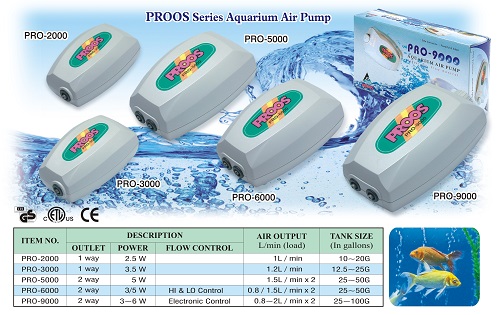 Our range of accessories is second to none. Our cleaning products include aquarium vacuum cleaners, siphons, magnet cleaners, a range of tank brushes and water change buckets.
For your tank filtering requirements we have a number of options. Ceramic rings, high active carbon, filter stones, volcanic rocks and soft water resins.
For tank temperature monitoring, we have a complete range of thermometers, including classic glass, digital and hydrometers.
Included in our range of accessories is a large selection of fish nets in various sizes, many sizes of air stones, brass gang valves and plant clippers and scissors.
For tank decoration, we have natural gravels, coloured gravels, ceramic and polyresin ornaments. For botanical decoration we have an extensive range of silk or plastic plants in a huge range of styles and colours.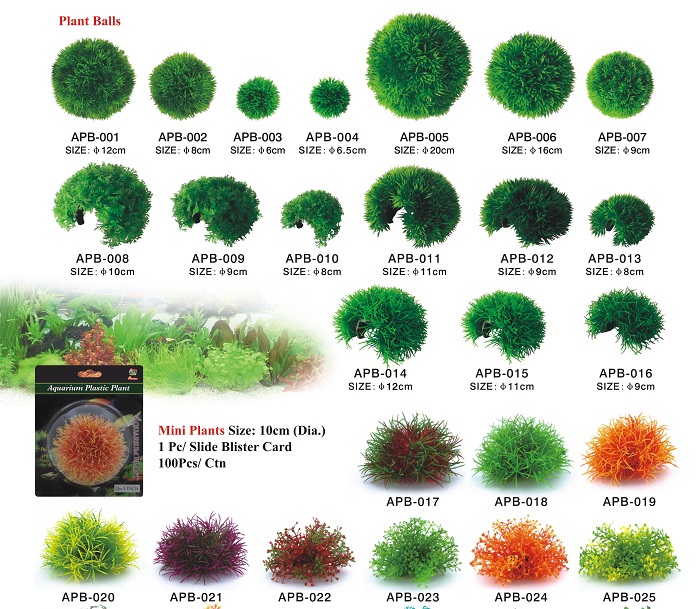 We specialize in tank backgrounds – we stock a large range of landscapes and seascapes – in all colours of the rainbow. It`s enjoyable changing backgrounds for your tank – you can alter the environment, depending on the variety of fish you keep.
We supply a range of fish foods – flakes, pellets – in different sizes for different fish breeds. We also have extended feeders for vacation time or for weekends away. Blocks for various time frames – automatic feeders – No concerns about fish not being fed while you are away!
Our range of medicines and water conditioners covers all bases. Water conditioners, water cleaner etc. for tank health. Health booster, white spot treatment, anti-parasite treatment and snail control products etc. for fish health.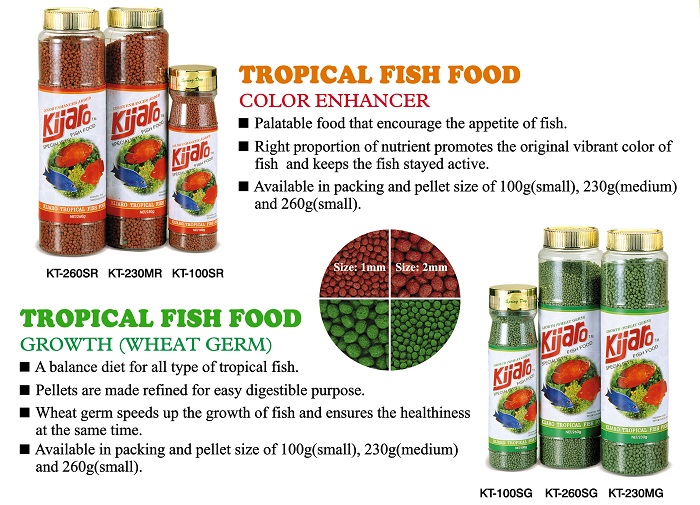 For salt water aquariums, we have aquatic hyperbaric regulators, CO2 aquarium cylinders, CO2 pressure regulators, CO2 diffuser sets and CO2 disposable supply sets etc.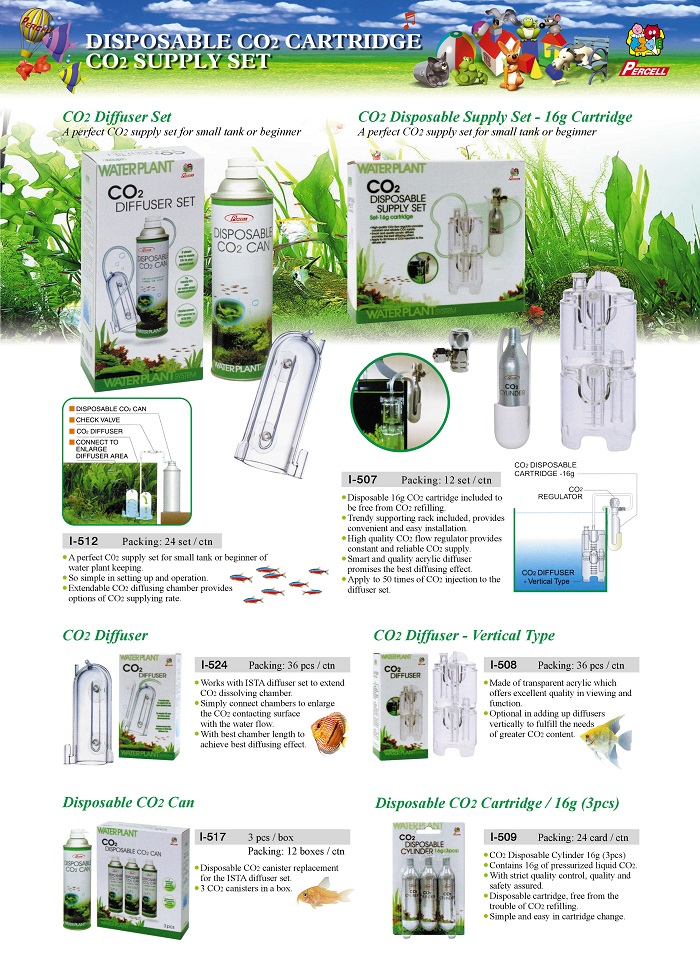 Electrical Requirement:
We can adapt electrical equipment to suit your countries requirements. We can also help with supplying the required certification for you to import into your country
Order Quantity:
One of our advantages in supplying you with our Aquarium Supplies is that we have been in the business for almost four decades. We have a massive range of quality products. Our advantage is that we can supply a very large variety of products to you in smaller volumes than you may be required to purchase elsewhere.
We are flexible in order volume - orders can be supplied LCL or full containers. MOQ can be discussed accordingly.
OEM Service:
Many of our customers have great ideas for Aquarium Supplies. If you have an idea, we are happy to discuss details with you, including volumes, costs and OEM etc. We can also help with developing products.
Aquarium Supplies
Aquarium Supplies,Aquarium Tanks,Aquarium Decoration,Aquarium Equipment
PERCELL PET SYSTEM CO., LTD , https://www.percell-pet.com