In the last month of 2009, some students of 07 Logistics ①② classes carried out semester internships at the school, and the internship projects were designed for college students 'entrepreneurship plans. The purpose of the internship designed for this entrepreneurial plan is to cultivate college students' independent entrepreneurship and entrepreneurial awareness, guide college students to understand entrepreneurial knowledge, actively participate in entrepreneurial practice, and improve the success rate of entrepreneurship. Through entrepreneurial design, selecting and discovering entrepreneurial talents and projects that are good at entrepreneurship, driving and influencing more college students to start their own businesses, realizing the purpose of stimulating employment through entrepreneurship, inspiring and cultivating students 'innovative consciousness, promoting entrepreneurial ideas, cultivating entrepreneurship and Practicing hands-on skills, turning entrepreneurial passion and ability into entrepreneurial programs with certain practical value.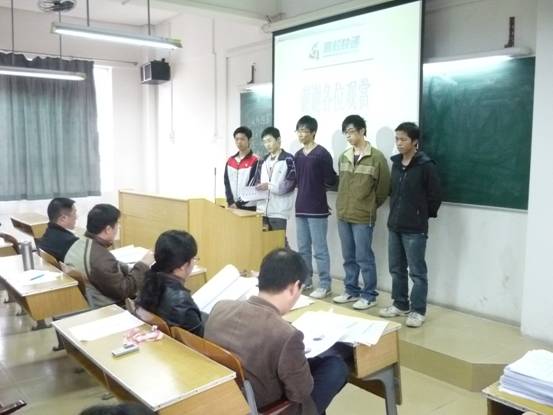 In this internship, teachers Yang Jiawei, Guo Yuefeng and Lian Xiping first gave students a one-week training plan for entrepreneurship planning design. Next, instructors Zhu Lijie and Guo Yuefeng were responsible for letting students form seven complementary project teams (entrepreneurial teams), respectively It is Hainan Yiyang Logistics Co., Ltd., college student help service company, random chocolate bar, health care speechless company, college express, etc., each group is composed of 5 ~ 6 students. Ask each group to propose an industry service project with market prospects, collect data and market analysis around the selected project, and finally complete the entrepreneurial plan; after the project is completed, the department head Lan Ling, marketing professional teacher Zheng Ruihong, and e-commerce professional teacher Zou Dejun Liu Jianjun, a teacher of the College Employment Office, formed a jury panel to check the oral defense of each project book.

From the perspective of the defense process and results, most students can take this entrepreneurship training seriously. They can learn from the company's background, company services, company philosophy, market competition, marketing management organization, financial market survey and analysis of the company's key strategic risks, Explain and analyze issues and assumptions about the company 's economic situation, financial forecasts, etc., and make statements through certain investigations and forecasts.

At the same time, we also see the fundamental deficiencies of logistics majors, such as: (1) financial analysis and the design of the most critical source, use, and return of funds for the company 's true lack of accuracy, feasibility, and vague professional knowledge. Unclear understanding leads to the inability to give correct answers to the sharp questions of the teacher in the reply, which exposes the incompleteness and immaturity of the entrepreneurial plan; (2) Failure to do detailed and practical market research, only relying on the information in hand and personal superficial Based on life experience; (3) The defect of the feasibility assessment of the entrepreneurial plan is more serious.

Participants in the training and defense were the 07 Logistics â'  class, Wen Wenping, who started his own business. He talked about his short-term entrepreneurial experience and thought it was a difficult road. If there is no follow-up capital to support it, there is no social network, no sales channels, no friends and classmates to support the difficulties, entrepreneurship will be difficult to succeed. He admonished his classmates with his personal experience. Although he was full of good expectations for starting a business, he made various preparations before starting a business, but he still lacked experience and analysis, and was difficult to resist the cruel reality. Therefore, to carry out practical training on entrepreneurship plans, you must know what you are doing, and you may know whether it is feasible or not, and whether there is a gap between your ideals and reality.

In summary, through the training of the entrepreneurship plan, most of the students learned some entrepreneurial knowledge and basic requirements from the entrepreneurship. They also understood the difficulties of entrepreneurship and the difficulty of setting up and running a company.
Stackable Chairs,Stackable Outdoor Chairs,Plastic Stackable Chairs,Stackable Banquet Chairs
Zhejiang Lifan Furniture.Co.,Ltd , https://www.lffoldingtable.com