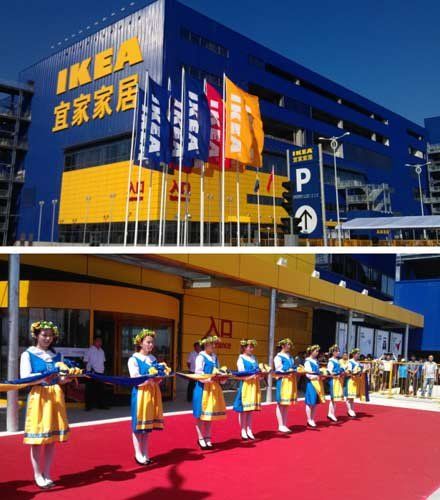 On July 18th, Ningbo Yijia opened as scheduled and became the first IKEA store in Zhejiang and the 12th in the country.
Just after 9 o'clock in the morning, the reporter came to the Ningbo-based Ningbo-based shopping mall in Panhuxin New District. At this time, there was still an hour left before the industry, but the eye-catching "blue box" door had already lined up a long queue of four or five hundred people.
IKEA is from Sweden and is the world's largest home furnishing retailer. But in the first 15 years of entering China, only eight stores were opened. Until recently, this speed was rewritten.
"Speeding up" relies on the "main battlefield" of second-tier cities, and Ningbo is an important part of it. Previously, IKEA's sales performance in China was good. Abandoning Hangzhou and using Ningbo as a "gateway" store in Zhejiang is undoubtedly not only focused on "land cheap".
Not only aiming at "Ningbo Guest"
"Today, please take a morning break to come to the early adopters. I used to buy some IKEA goods. It is not a purchase. It is a Shanghai operation. It is very troublesome." Li A, 31, is working in an advertising company. She said that the style is fashionable and the price is right. It has always been the heart of an urban white-collar worker like her.
Another group of young people who chatted happily came from Wenzhou. "Last night we talked in the group and said that if we don't drive to Ningbo IKEA, we will respond to the results." They told reporters that the nearest IKEA home in Wenzhou was in Shanghai, driving too far, and things were checked. Now that Ningbo has opened, it will take only two hours to get there. Even if you drive to work, you will be able to catch up.
The 26-year-old Chen Qiangqiang pushed the shopping cart and took a shopping list to wander around the mall. He is a Taobao store manager. Before the opening of IKEA, he first launched the purchasing business. Each item received a purchase fee of 20 yuan, just a few Day, there are already 46 purchase orders in hand.
"Although IKEA is close to the 'home door', there are still people who are too lazy to drive for a few hours to buy a new business opportunity." He said that there are many people on Taobao who are purchasing IKEA in Shanghai, every month. Probably can earn more than 4,000 yuan.
Attracting the consumer group outside Ningbo is one of the "ambitions" of the IKEA Ningbo shopping mall. "A city's consumption power is limited after all, only the 'eight-party visitors' can bring a steady stream of consumption." Hu Yanyao, the person in charge of the mall, analyzed. Recently, Ningbo opened a high-speed rail to Hangzhou and Nanjing. The surrounding cities are basically within the "two-hour traffic circle", and Ningbo is also an international logistics hub city in the Yangtze River Delta. The logistics industry is quite developed, which gives IKEA a play. Space.
IKEA new strategy test
"I hope that Hangzhou people don't mind if we first come to Ningbo. The second-tier cities are an indispensable step in our development." Ren Weiguo, vice president of retail business in IKEA China, had made such an opening in front of the media.
Since 2011, the worst situation in China's furniture sales market is mainly in the first-tier cities in China, and it is also concentrated in the eastern coastal areas, such as Beijing, Shanghai, Hangzhou, Guangzhou and Shenzhen. These cities are the most restricted cities in this round of real estate regulation. In sharp contrast, the furniture market in the second and third tier cities has become a "new bright spot", especially in Chongqing and Chengdu. These have promoted the acceleration of entry into China's second-tier cities in IKEA's strategy.
In recent years, IKEA has lowered the price of commodities every year. In the past 10 years, the price of IKEA products has dropped by about 50%. The most recent price adjustment for core products has reached 20% to 30%. "The price adjustment is based on the concept of low-cost IKEA sales, and it is also to prepare for the expansion of second- and third-tier cities." The relevant person in charge of IKEA said.
However, behind IKEA's efforts to promote low-cost strategies is the mismatch between IKEA's self-determined image and Chinese consumer perception. Since the establishment of IKEA, this international home furnishing giant has positioned itself as a popular brand, and low prices are its killer. However, in the Chinese market, consumers' general perception of IKEA is quite the opposite. "Small capital" and "high price" are general evaluations of IKEA products in the Chinese market. Therefore, this time in Zhejiang, the first test of water in the second-tier cities undoubtedly showed an adjustment of IKEA's global strategy.
Fulike Houseware&Gifts Co.,Ltd. , https://www.cnfulike.com