Colors Available:
Red, Rose Red, Green, Blue, Black, White
Life Circle:
10, 000 Times Erase
Power:
Replaceable Button Cell Battery Cr2025
Hand-Writing Color:
Light Green
Certification:
RoHS, Ce, FCC
Transport Package:
1 LCD Writing Tablet in Box, Then in Carton
Specification:
280*185*4.8mm (12")
Howshow 12 inch LCD Writing tablet for kids
Product Description
Howshow
 LCD writing tablet is An alternative to traditional paper, Erase your image with the Touch of Erase Button, Eco- friendly and environmental protection, also saving you a lot of money.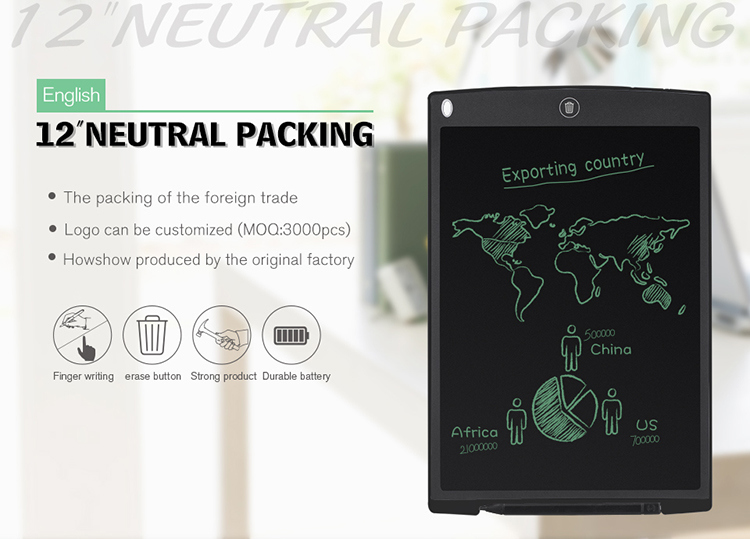 SPECIFICATION:
 
| | |
| --- | --- |
| Name | Howshow 12inch neutral packing |
| Product model | HSD1200 |
| Size | 280*185*4.8mm (12") |
| Weight | 188g |
| Material | LCD, ABS |
| Panel | Flexible LCD screen |
| Batterty Model | CR2025 (Replaceable Button cell battery) |
| Write | Write with any hard object |
| Erase | All erasing supported |
| Lifespan | Power saving design, can be used repeatedly for about 100,000 times |
| Color available | Red, Rose red, Green, Blue, Black, White |
Features:
Fast Display:Â Pressure-sensitive LCD writing surface makes your writing or drawing appear without any delay.
Convenient:Â Write or draw with any other suitable instrument, even by your finger!
One-Button Erase: High efficiency, erase your drawing just by a touch of the erase button.
Portable:Â Ultra-slim, lightweight and compact design, easy to carry and can be easily slid into your briefcase, backpack, or other bag. Perfect for business people, designers, engineers, teachers and doctors, can be used in school, office, home or other use.
Replaceable battery:Â Built-in replaceable button cell, long battery life up to 2Â years, you don't necessarily worry about power cut.
Display: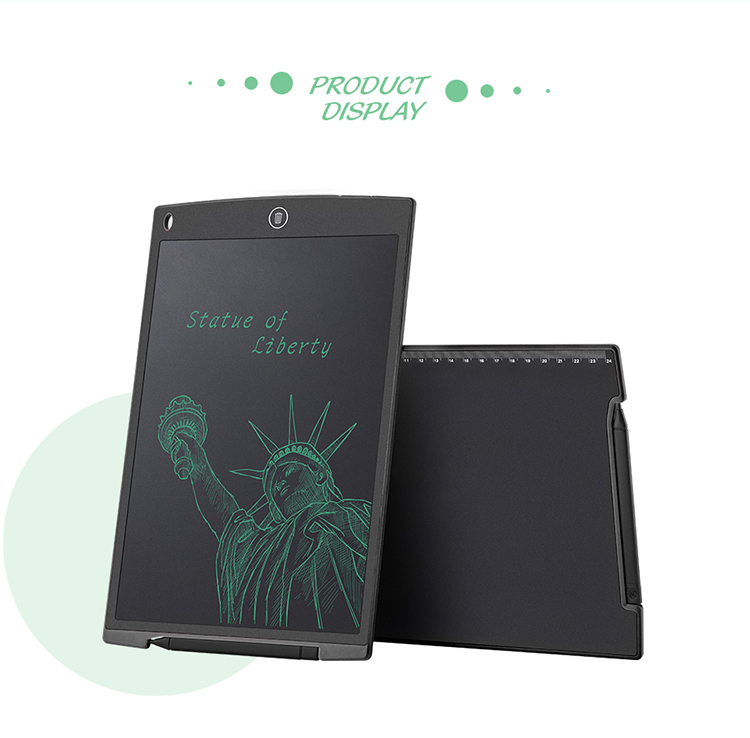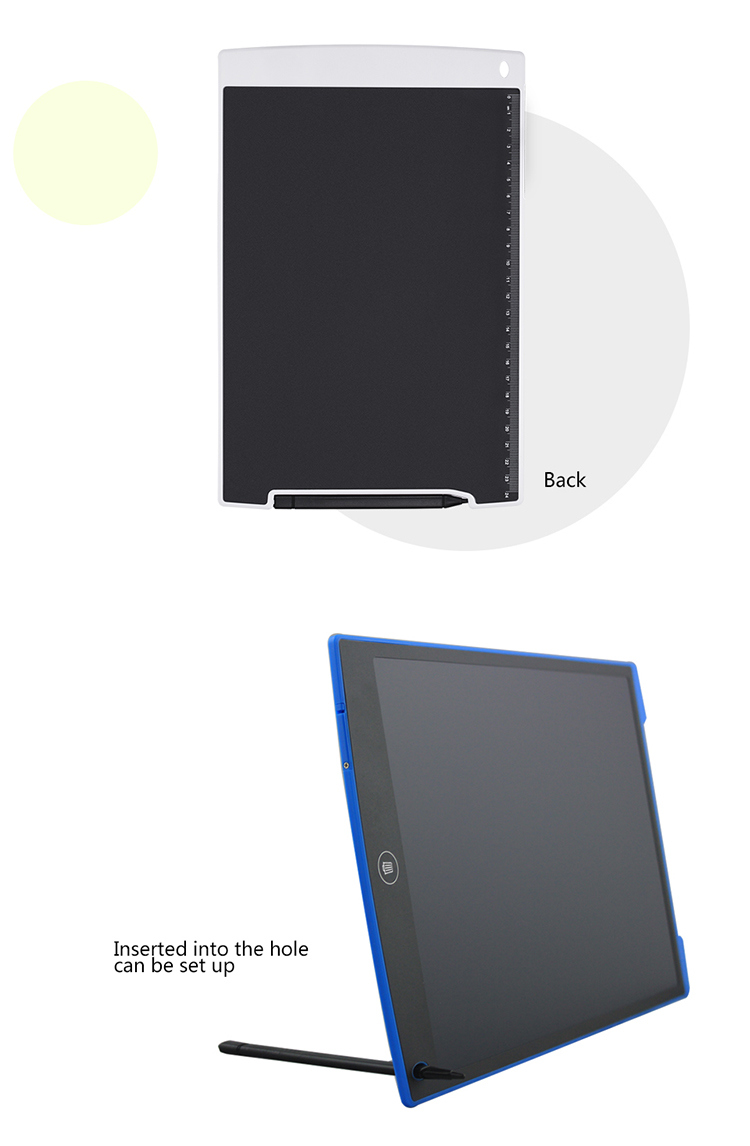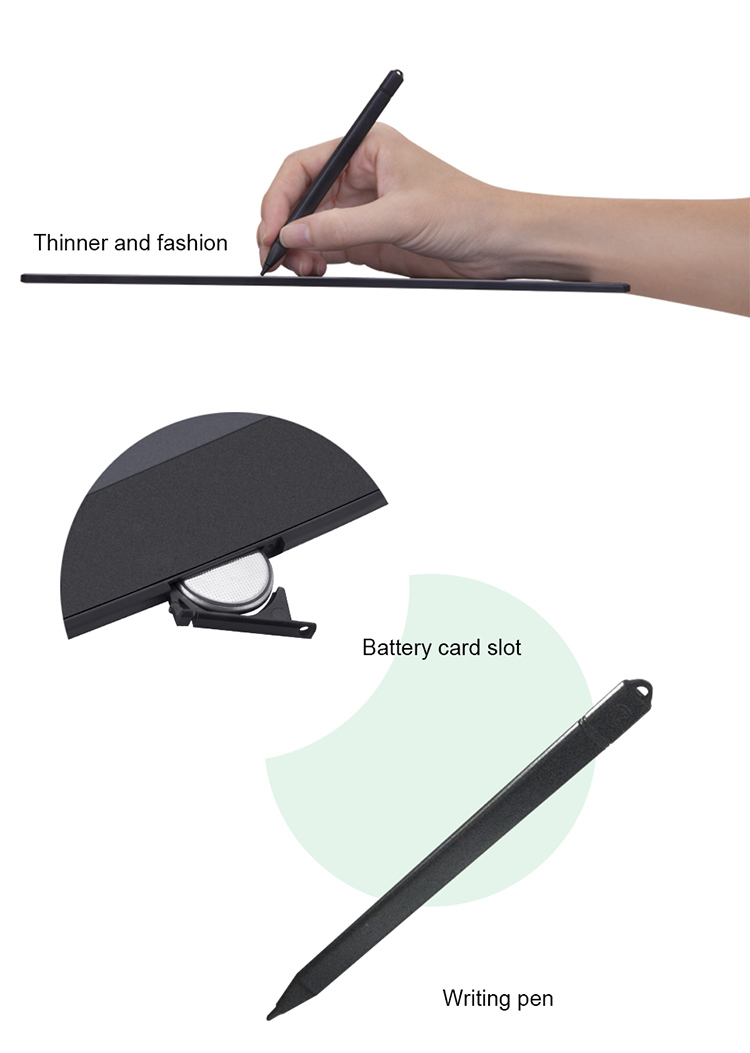 Applications:
1. Good company for children in daily life and study. Good for writing, arithmetic, spelling, class notes, drafts, scientific equations to solve mathematical problems and drawing practice. Easy to cultivate children's writing, calculus, painting abilities, learn with fun. Let children explore their unlimited creativity wherever.
2. Love your family enjoy your life: as a family message board to deliver your love to your family, can be placed on the table and desk.
3. This make it inconvenient for those who have a poor hearing or cannot talk with the the world. And this LCD writing board will really do a big favor for them to make themselves understood and definitely facilitate communication.
4. Perfect for writing to-do lists, shopping lists, appointment reminders,short memos and leaving notes for friends and family.

Note:
Please allow 1-3mm differs due to manual measurement.
Due to the different display and different light, the picture may not reflect the actual color of the item. Thanks for your understanding.
About us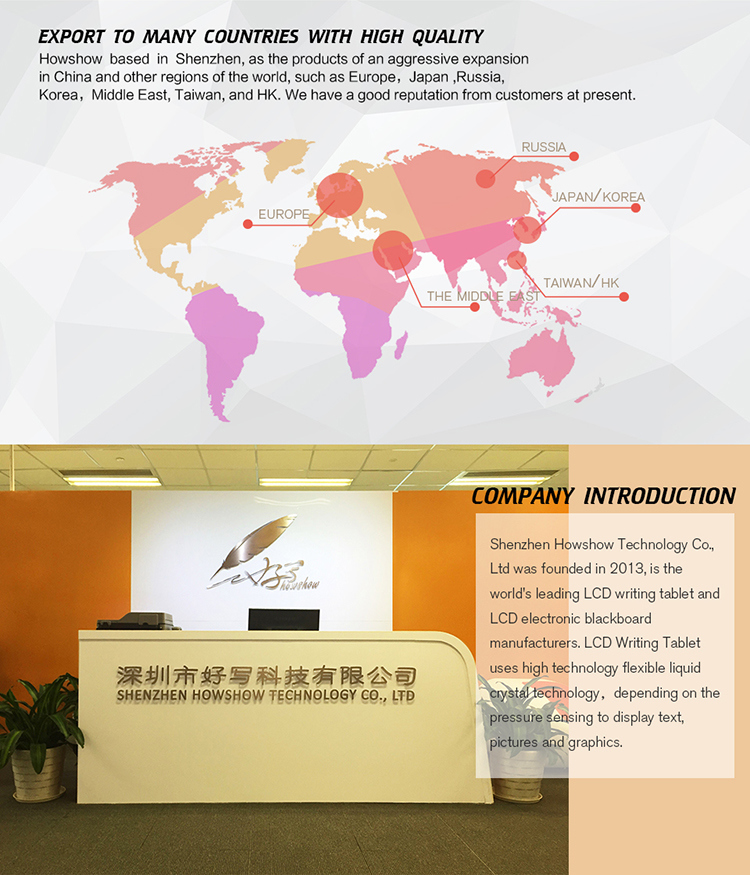 FAQ
Q: Can I erase just a portion of the writing surface?
A: No, you cannot. The entire writing surface will be erased when the erase button is pushed.

Q: How Do IÂ Clean my writing board?
A. We recommend you use a LCD cleaner or Windex.

Q: What type of battery do IÂ need?
A: The writing table comes with a 3v CR 2025-coin cell watch battery that will last up to 50,000 uses.

Q: Can IÂ save my work?
A: You cannot save your work on the Board. This is more for jotting down quick notes and less about writing papers. Some have suggested to use your phone or camera to take a quick picture if it is something you want to hold on to.

Q: How do you erase your work? 
A: Erase your image with the touch of a button - and a friendly flash of the liquid crystal display.

Q: Is it delicate?
A: The case and LCD are made from durable plastic materials. Safe for school use and all around the house, office and car.
Contact us 

Alisa
 
 
 
The restaurant decorated in a modern style, a wide range of soft bag chairs have become an integral whole restaurant-style embellishment. As consumers, because of its small, comfortable, independent and much loved. For restaurant owners, free-standing and space is an important factor in their choice.

Soft bag chair is a sponge, cloth or soft leather bag named. There are two common all soft bag chairs and semi-soft bag chairs on the market. The so-called package is a totally flexible backrest and cushion are sponges, then Gapi material or soft bag made of cloth. The semi-soft bag chairs generally only cushion soft case. From the fabric, the leather chairs and fabric soft pack soft bag chairs face the choice of different, with skin, Busha choice is the same, in the end is good or better choose leather sofa fabric sofa, in fact, each has its own characteristics, The most important thing according to their own style of decoration and customer preferences.

Soft bag chairs are made of high quality wood frame inside the building, solid structure, angle in accordance with ergonomic design, better use of improved function and quality of the chair. Soft pack part made of high quality sponge, cotton high density multi-layer structure, ride comfort, spring rate, and durability.

Covered Dining Room Chairs, Lounge Chairs for Bedroom, Fabric Covered Dining Chairs, Chair with Removable Cushions
Taizhou Pinsum Furniture Co.,Ltd , http://www.pinsumchina.com